"Rays of the World" : 800 pages sur 630 espèces connues!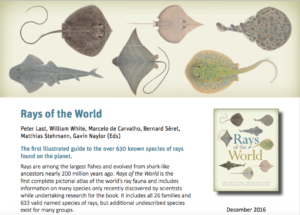 By Peter Last, William White, Marcelo de Carvalho, Bernard Séret, Matthias Stehmann, Gavin Naylor (Eds)
The first illustrated guide to the over 630 known species of rays found on the planet.
Rays are among the largest fishes and evolved from shark-like ancestors nearly 200 million years ago. Rays of the World is the
first complete pictorial atlas of the world's ray fauna and includes information on many species only recently discovered by scientists while undertaking research for the book. It includes all 26 families and 633 valid named species of rays, but additional undescribed species exist for many groups.
Rays of the World features a unique collection of paintings of all
living species by Australian natural history artist Lindsay Marshall.
This comprehensive overview of the world's ray fauna summarises information such as general identifying features and distributional information about these iconic but surprisingly poorly known fishes. It will enable readers to gain a better understanding of the rich diversity of rays and promote wider public interest in the group.
Rays of the World is an ideal reference for a wide range of readers, including conservationists, fishery managers, scientists, fishers, divers, students and book collectors.
December 2016 – 800 pages, Hardback
ISBN: 9780643109131
price : $220.00        Sales in Australia and New Zealand only ;
For rest of world sales contact: Cornell University Press : www.cornellpress.cornell.edu